Since we are redeemed from the curse of poverty, why is that so many Christians are still experiencing poverty and lack. It's due to them committing destructive practices that lead to poverty. In this lesson Dr. Sesley innumerates these practices and how to change.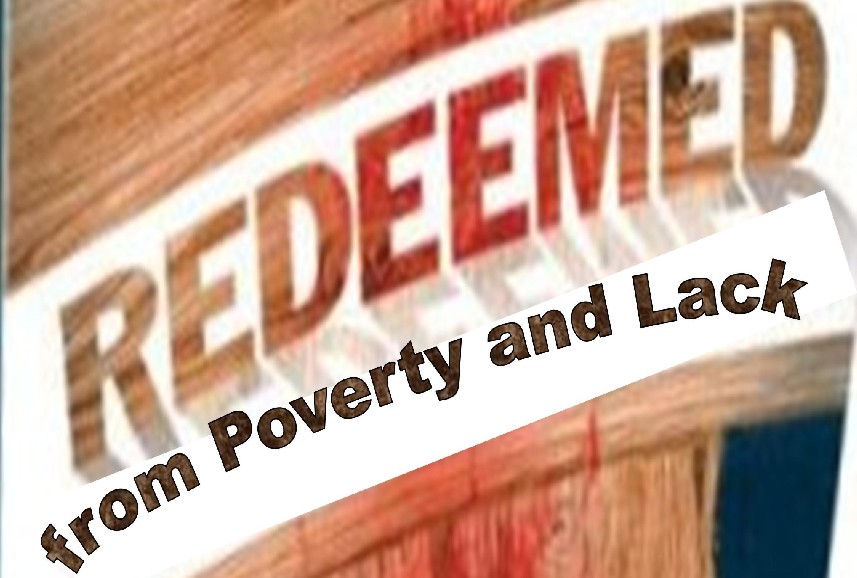 By Dr. Kenneth R. Sesley
Lesson Two:
"Breaking Destructive Practices that Lead to Poverty"
Introduction: While praying over these Easter Services, the Lord strongly impressed upon my spirit that He wanted me to teach on our Redemption from Poverty and Lack. We must recognize that everything is not spiritual. There is a spiritual side and a natural side to everything. Sometimes we have developed destructive attitudes, thoughts, habits and practices, that will lead to poverty, even though you are believing God's Word.
A. We are Redeemed from Poverty and lack!
1. Redeemed Defined: Literally "to buy off," or "to set free by the payment of a price." The root word for redemption in Greek is agora, "marketplace," the site of the slave auction where, everyday in ancient Rome, human beings were put up for sale to the highest bidder.64 The word "redemption" declares that we have been bought with a price. "We are not saved by the Lord Jesus Christ by some method that cost him nothing! Christ paid the price so that we would never have to suffer poverty or lack again, no matter what the economy looks like!
2 Corinthians 8:9 (NKJV)
For you know the grace of our Lord Jesus Christ, that though He was rich, yet for your sakes He became poor, that you through His poverty might become rich.

Psalms 37:18-19(KJV)
The LORD knows the days of the upright: and their inheritance shall be forever. They shall not be ashamed in the evil time: and in the days of famine they shall be satisfied.
2. We are redeemed from poverty, unto abundance! (Joshua 1:8; Psalms 35:27; 112:1-3; Proverbs 10:22; John 10:10; Mark 11:24; 1 Timothy 6:17; 3 John 2:1
We must always remember as Christians that we are in this world but not of it. We are Ambassadors (2 Cor. 5:20) so our needs our supplied by our home government and not the local government we live in!
B. Biblical Causes for Walking in the Curse of Poverty and Lack: Prov. 26:2 - What the wisest man who ever lived thoughts about poverty:
1. The inability to receive instruction orcorrection will result in poverty - Proverbs 13:18
2. Too much sleep will result in poverty - Prov 6:11;20:13; 24:33-34
3. Alcohol, gluttony and drugs will result in poverty - Proverbs 23:21
4. Get rich quick schemes will result in poverty - Prov. 23:22 NLT
5. A stingy nature will result in poverty - Proverbs 11:25
C. Other causes of poverty:
1. Lack of Spiritual Insight and Knowledge - Hosea 4;6; 1 Tim. 6:10
· Ignorance over the significance of money - 1 Tim. 6:10; Eccl. 7: & 10:
· Ignorance of what God wants you to have - 1 Tim. 6:12, 18; John 10:10; Psalms 112:13
· Ignorance concerning the power of our thought life - Proverbs 23:7; Luke 11:34-35;
· Ignorance of HOWGod wants you to have it
Isaiah 48:17-18(KJV) Thus saith the LORD, thy Redeemer, the Holy One of Israel; I am the LORD thy God which teacheth thee to profit, which leadeth thee by the way that thou shouldest go. O that thou hadst hearkened to my commandments! then had thy peace(Heb. Shalowm) been as a river, and thy righteousness as the waves of the sea.
2. Lack of Understanding How to be a good employee
· Have the right inner attitude by practicing the Three C's:
o Courtesy
o Confidence
o Commitment
· Have the right outward appearance - 1 Sam 16:17
o How you dress
o How your car looks
o How well you keep your desk, office & workstation
o How well you keep your body
· Have the right work ethic
o Work as unto THE LORD, whether your boss is looking or not.
o Work to make YOUR BOSS look good
o Work to make things better than BEFORE YOU ARRIVED
o Have a LOYAL SPIRIT towards your boss & company -
o Have a FRIENDLY disposition.
o Have an INDISPENSIBLE Nature
· What if you do LAYED off anyway?
o If you can't get hired immediately in your field, take a job, before you look for the perfect job. If that happens;
o Try to work for a larger corporation than a mom and pop so that you can apply these principles and move around till you find a position comparable to your skill set.
o Apply the principles mentioned above.
3. Lack of Spiritual Commitment to a godly lifestyle - 1 Tim. 4:8; Isa. 1:19
1 Timothy 4:8(KJV)
For bodily exercise profits little: but godliness is profitable unto all things, having promise of the life that now is, and of that which is to come.

Isaiah 1:19(TLB)
If you will only let me help you, if you will only obey, then I will make you rich!
· This means seek God's ways of doing things:
Matthew 6:31-33
But Seek ye first the kingdom of God, and His righteousness, and all these things shall be added to you
· This requires repentance or turning from our was to God's ways:
· Matthew 4:17 (KJV)
From that time Jesus began to preach, and to say, Repent: for the kingdom of heaven is at hand.
Acts 2:38(KJV)
Then Peter said unto them, Repent, and be baptized every one of you in the name of Jesus Christ for the remission of sins, and ye shall receive the gift of the Holy Ghost.
Acts 3:19(KJV)
Repent ye therefore, and be converted, that your sins may be blotted out, when the times of refreshing shall come from the presence of the Lord;
· We have to cease with the self-defeating premise that says, "Well that's just the way I am".
God wants to help us!
Next Week: The Blessing Of Abraham, What is it?
Memory Verse:
Like a fluttering sparrow or a darting swallow, an undeserved curse will not land on its intended victim.